About Us
West Side School Parent Teacher Group
Mission Statement
To promote the well being of the children at West Side School. To foster and enhance cooperation among the parents, administration, students and community to support the continuous improvement of the educational process at West Side School. To facilitate communication and to promote interest within the school community. To encourage and support effective parental involvement in their children's education at school and in the community. To assist and encourage the programs and activities of the West Side School on an information and serve basis.
WSS-PTG NOMINATION FORM
THE PTG IS IN NEED OF VOLUNTEERS FOR NEXT YEAR'S EXECUTIVE BOARD.
THE WSS-PTG PLAYS AN IMPORTANT ROLE IN YOUR CHILD'S WEST SIDE EXPERIENCE. MANY OF THE FUN & ENRICHING ACTIVITIES, PROGRAMS & EVENTS ARE SPONSORED BY THE PTG.
PARENTAL INVOLVEMENT IS CRUCIAL IN ENSURING THESE SPECIAL ACTIVITIES & TRADITIONS CONTINUE. THE TIME COMMITMENTS FOR EACH ROLE VARY. ALL POSITIONS ARE AVAILABLE.
PLEASE CONSIDER VOLUNTEERING YOUR TIME TO HELP BENEFIT OUR STUDENTS!
THE FORM & ROLE DESCRIPTIONS IS VIA THE LINK BELOW:
PLEASE SUBMIT FORM BY MAY 1 TO KATIE ZARBOUTIS.
PLEASE FEEL FREE TO REACH OUT TO ANY CURRENT BOARD MEMBER IF YOU HAVE QUESTIONS.
West Side School PTG meeting schedule:
January 10 2022
February 7, 2022
March 7, 2022
April 4, 2022
May 2, 2022 – Staff Appreciation Luncheon
May 9, 2022 – Meeting & Thank you Breakfast
**Please note date change from the District's printed calendar
2021-2022 WSS PTG EXECUTIVE BOARD
ON BEHALF OF THE CURRENT BOARD, WE THANK ALL OF YOU FOR YOUR SUPPORT, & ARE HAPPY TO WELCOME OUR WSS~PTG EXECUTIVE BOARD FOR THE 2021-2022 SCHOOL YEAR!
WSS~PTG EXECUTIVE BOARD FOR 2021~2022
LAURA MASSARO (CO-PRESIDENT)
JENNY WILLENBACHER (CO-PRESIDENT)
HEATHER SHAW (CO-VICE PRESIDENT)
LAURA FELLER (CO-VICE PRESIDENT)
CATHY VELENOVSKY (TREASURER)
RACHEL BRILL (COMMUNICATIONS COORDINATOR)**THIS BOARD IS IN EFFECT AS OF JULY 1ST**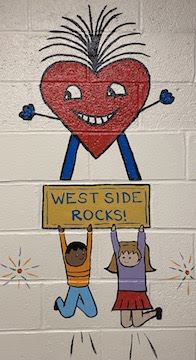 PTG Event Calendar 2021-2022