About Us
West Side School Parent Teacher Group
Mission Statement
To promote the well being of the children at West Side School. To foster and enhance cooperation among the parents, administration, students and community to support the continuous improvement of the educational process at West Side School. To facilitate communication and to promote interest within the school community. To encourage and support effective parental involvement in their children's education at school and in the community. To assist and encourage the programs and activities of the West Side School on an information and serve basis.  
West Side Kids Care Thanksgiving Food Drive:
Each year, the West Side community comes together to provide needy families in our area with a Thanksgiving meal. These families are part of the Helping Hands Rescue Mission in Huntington. Please help by donating your child's assigned food below to ensure each family has a festive and hearty meal this year:
2nd Grade (Ryan and Santoro): Can of Corn
3rd Grade (Dopico and Thompson): Box of Cereal
4th Grade (Manning and Scanlon): Boxed Rice Mix (Rice a Roni or other boxed mix)
5th Grade (Baratta, Dudek and Markin): Box of Granola Bars
6th Grade (Arloff and Pina): Box of Macaroni and Cheese
In addition we are suggesting that each child donate $1 so the Mission can purchase turkeys for families in need. We ask that this $1 come from their savings or that they earn it by helping you. It is part of our goal to teach the importance of giving, kindness and concern for others. All donations are on a voluntary basis. Thank you for your support!
Donations will be collected in your child's classroom and will be due by Thursday, November 18th.
Please contact Jordan Smith (jordankennasmith@gmail.com) or Stacey Guinan (sguinan7@gmail.com) with any questions.
WELCOME BACK WEST SIDE SCHOOL!!!!
We hope everyone has had a smooth transition back to the 2021-22 school year and we want to welcome the new families again to WSS. The Fall is a busy time of year and we have various upcoming events. Please note that Photo Day will be held at WSS on October 1st. We also have our next PTG meeting and Tomato Sauce Day on October 4th.
Invitations to the October 15th WSS WIN will come home in backpacks this week. Please keep an eye out for your invitation and be sure to buy tickets to our biggest fundraiser of the year! It will be a fun night and a great way to meet other WSS parents. Our WIN committee is hard at work planning a very special night.
The WSS Fall Festival is coming up in October, as well as the Book Fair. We are excited that both events will be held in-person at WSS this year!
THIS YEAR IS LOOKING DIFFERENT, BUT YOU CAN STILL HELP OUT! WE ARE ALWAYS LOOKING FOR VOLUNTEERS AND FUNDRAISING IDEAS. IF YOU WOULD LIKE TO VOLUNTEER FOR A COMMITTEE THAT ALREADY HAS A CHAIR, PLEASE REACH OUT TO THE COMMITTEE CHAIR! COMMITTEES & EMAIL ADDRESSES ARE UNDER THE BOARD AND COMMITTEES PAGE. IF YOU WOULD LIKE TO VOLUNTEER OR CHAIR A COMMITTEE, PLEASE EMAIL OUR VP'S, HEATHER SHAW & LAURA FELLER.
West Side School PTG meeting schedule:
*** September 13, 2021 – Welcome Back Breakfast & Meeting
September 20, 2021 – Committee Chair & Class Parent Meeting
October 4, 2021
November 1, 2021
January 10 2022
February 7, 2022
March 7, 2022
April 4, 2022
May 2, 2022 – Staff Appreciation Luncheon
May 9, 2022 – Meeting & Thank you Breakfast
**Please note date change from the District's printed calendar
2021-2022 WSS PTG EXECUTIVE BOARD
ON BEHALF OF THE CURRENT BOARD, WE THANK ALL OF YOU FOR YOUR SUPPORT, & ARE HAPPY TO WELCOME OUR WSS~PTG EXECUTIVE BOARD FOR THE 2021-2022 SCHOOL YEAR!
WSS~PTG EXECUTIVE BOARD FOR 2021~2022
LAURA MASSARO (CO-PRESIDENT)
JENNY WILLENBACHER (CO-PRESIDENT)
HEATHER SHAW (CO-VICE PRESIDENT)
LAURA FELLER (CO-VICE PRESIDENT)
CATHY VELENOVSKY (TREASURER)
RACHEL BRILL (COMMUNICATIONS COORDINATOR)**THIS BOARD IS IN EFFECT AS OF JULY 1ST**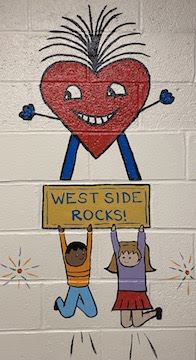 PTG Event Calendar 2021-2022